We do offer our shoppers the unique possibility to be automatically rewarded in their favorite stores with special offers and cashback, but you have to find us first ! Let us tell you where. In close to 5 years of existence, we integrated more than 30 loyalty programs, thanks to a solid presence in France, in key shopping locations near you and via a consistent and fast international development.
While our story began in France at the large shopping center in Levallois-Perret (Hauts-de-Seine), So Ouest, back in 2017 with an initial PoC ("proof of concept"), it really started at Westfield Rosny 2, also in Hauts-de-Seine, in 2018 with our historical client Unibail-Rodamco, where we launched our 1st loyalty program.
Our expansion continued in 2019 and 2020, in the Paris region and in center Paris in major shopping hubs (Westfield Quatre Temps, Passage du Havre, Westfield Forum des Halles, Parly 2, Vélizy 2). We then settled across all parts of France, including a launch at the Hyper U in Sud-Dracénie in Les Arcs or Polygone Béziers, La Part-Dieu in Lyon and Westfield Euralille.
Seven countries, soon to be ten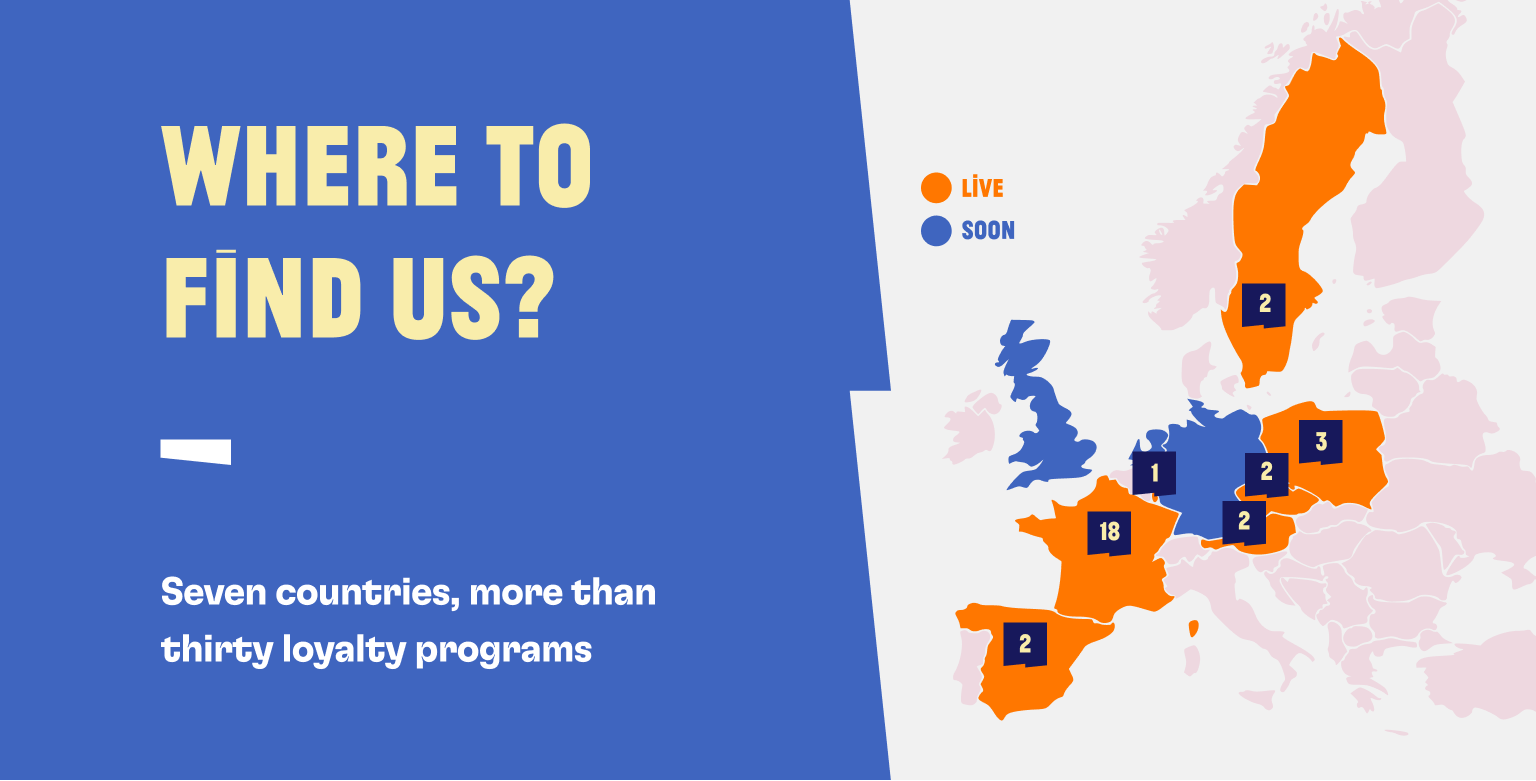 In July 2020, our adventure outside France finally took off in Spain, Poland and Sweden ! Unibail-Rodamco, but also Carmila, Socri, Eurocommercial, Frey, Ceetrus... Many are the clients who now accompany our development within your favorite shopping stores at allfour corners of Europe. Our latest launch takes place on August 1st, 2021, in Poland, with a new customer, Nepi RockCastle.
To date, we are live in 7 countries (France, Spain, Poland, Luxembourg, Sweden, Austria, Czech Republic) but know the list will quickly grow by end of 2021. Our CEO and co-founder Didier Gasté reminds us that :
"Our goal is to accompany shoppers in Europe and around the world. In the next six months, we will be announcing three new countries."